Once upon a time, a family of passionate beer lovers came together to create something special. They wanted to create exceptional beer and make a living doing something they loved. And so, in 1995, Bear Republic Brewing Company was born. 
Their original brewery, nestled off the downtown square in Healdsburg, California, was their playground. Here, they experimented with different ingredients and ultimately created some of their best-loved brews. Ricardo's Red Rocket Ale, Racer 5 IPA, and many others were born in that brewhouse.
As word of their delicious beer spread, so did their popularity. Rapid growth beckoned, and Bear Republic delivered. All their beer that goes to market is brewed and packaged with the utmost care. But where does their secret lie? It's simple – they hand-select every ingredient for each batch. The grains and hops are chosen for their unique characteristics, and the recipes and formulas are crafted with precision and care.
Bear Republic has been a leader in the craft beer industry both in Sonoma County and Nationwide for decades and has now partnered with another independent craft beer powerhouse: Drake's Brewing Company in San Leandro, California. Together they plan to expand the brand and continue to brew the high-quality, great-value beer you all know and love. 
They're proud of their roots and excited for what the future holds. They're always experimenting, trying new things, and pushing the boundaries of what great beer can be.
Below, you'll find a timeline of notable events in Bear Republic history.
1993
Ricardo's Red Rocket Ale® wins Best New Product at The Interbike International Bicycle Expo in Las Vegas.
1995
Bear Republic Brewing Co. is founded.
1996
Racer 5 IPA is brewed and begins to hit tap handles in Sonoma County. The first packaged Racer 5 hits stores in July of 1997.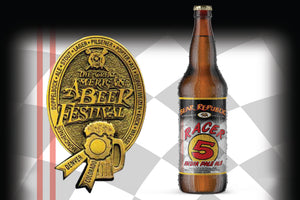 1999
Racer 5 IPA® wins first GABF Gold Medal for American IPA.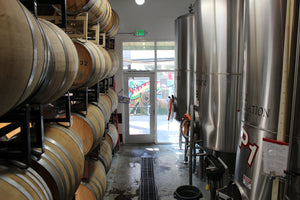 2000
Original Healdsburg location expands into additional production space.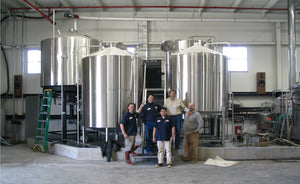 2005
Bear Republic breaks ground at Factory 5 Brewery in Cloverdale.
2006
Bear Republic named Small Brewing Company and Small Brewing Company Brewer of the Year at the Great American Beer Festival.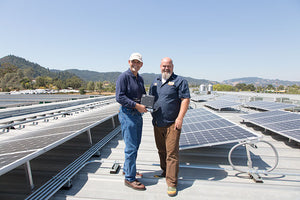 2014
Bear Republic installs world's first All USA commercial solar array. First of 135 kW of solar.
2019
Thru the Haze wins gold and Best of Show at Copa Cervezas de América, N.E. IPA Category.
2022
Bear Republic accumulates over 500 awards for both our beer, our pubs and for the community.
2023
Racer 7 Hazy IPA releases in California!