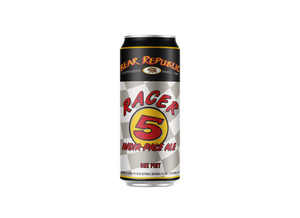 Racer 5 IPA
STYLE: West Coast IPA
ABV: 7.5%
IBU: 75
This hoppy IPA is a full bodied beer brewed with malted barley, wheat, and crystal malts. The malt base is designed to highlight the unique floral qualities of Columbus and Cascade hops from the Pacific Northwest.
Racer 5 is one of America's most medal winning IPAs. Enjoy this iconic, award winning IPA that helped define the West Coast style. There's a trophy in every glass.

Ingredients
Hops: Cascade, Centennial, Chinook, Columbus
MALT: Pale Barley Malt, White Wheat Malt, Crystal Malt
YEAST: House Ale
Racer 7 Hazy IPA
STYLE: Hazy IPA
ABV: 7.0%
IBU: Low
Racer 7 Hazy IPA is ripe and juicy, showcasing a modern blend of hops providing a fruity, hoppy aroma. Soft, malty oats and wheat give this crushable hazy a clean finish with minimal bitterness.
Ingredients
HOPS: Citra, Hallertau Blanc, Galaxy
MALT: Malted Barley, Oats, and Wheat
YEAST: Hazy Strain
West Coast IPA: HWY 1
STYLE: West Coast IPA
ABV: 7.1%
IBU: 60
HWY 1 is bursting with Citra, Sultana, and Amarillo hops. This West
Coast IPA is crisp and hoppy with a clean finish that invites another
sip.
Ingredients
HOPS: Citra, Sultana & Amarillo
MALT: Malted Barley & Light Crystal
YEAST: House Ale