Our Sustainability Efforts
While we love to make a mark with our beers, we want to minimize our mark on the environment.  Below are some areas we've engaged with to help reduce our impact on the planet. 
Clean Energy
Brewing requires lots of energy.  Some of our efforts to minimize this include:
Solar

We've installed the world's first 100 percent USA manufactured component solar farm. This consists of 135 kW at our Factory 5 Brewery and another 38 kW at our Lakeside Brewpub. 
Biogas 
Our anaerobic digester cleans our brewery's wastewater and generates biogas.  We convert this biogas in a combined heat and power Turbine into 30 kW of clean electricity and capture the energy from combustion to heat our brewery process water.
Check out this video about our partnership with Enphase Energy and North State Solar to learn more.

View Our Energy Production in Real Time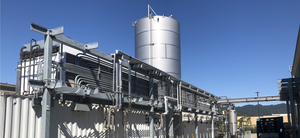 Water
To make beer, you need water, and lots of it. Living in a drought prone area has made us conscious of water scarcity.
Best in Class Water Use
We use a scant 3.25 gallons of water to brew a gallon of beer.  Industry averages range from 5-7 gallons.  Flow meters and a plant-wide data collection system allow us to pinpoint ways to continually improve this industry leading process.
Public-Private Partnership 
We partnered with the City of Cloverdale to refurbish existing wells and install two additional wells.  By advancing $467,000 in fees, the City was able to fast track this project. 
Spent Grain
While most spent brewer's grain ends up as livestock feed, we've gone one step further.
Range to Table Program 
We've partnered with our favorite local ranchers, Oak Ridge Angus.  They provide the calves and we provide the feed.  This program has produced 70,000 pounds of locally raised beef for the Sonoma County Food Bank and has helped provide tasty and nutritious protein for countless families in need. 
Lakeside Brewpub
Our efforts to reuse resources and reduce our footprint don't stop at the brewery! We've made sure to invest in tomorrow in every way possible, including the reuse of building materials and installation of a 38 kW solar farm at our Lakeside Brewpub.

Check out our video about our Lakeside sustainability efforts to learn more.
View Our Energy Production in Real Time